SIMATIC S7-1500
CPUs, I/O modules, Power supply units and accessories
=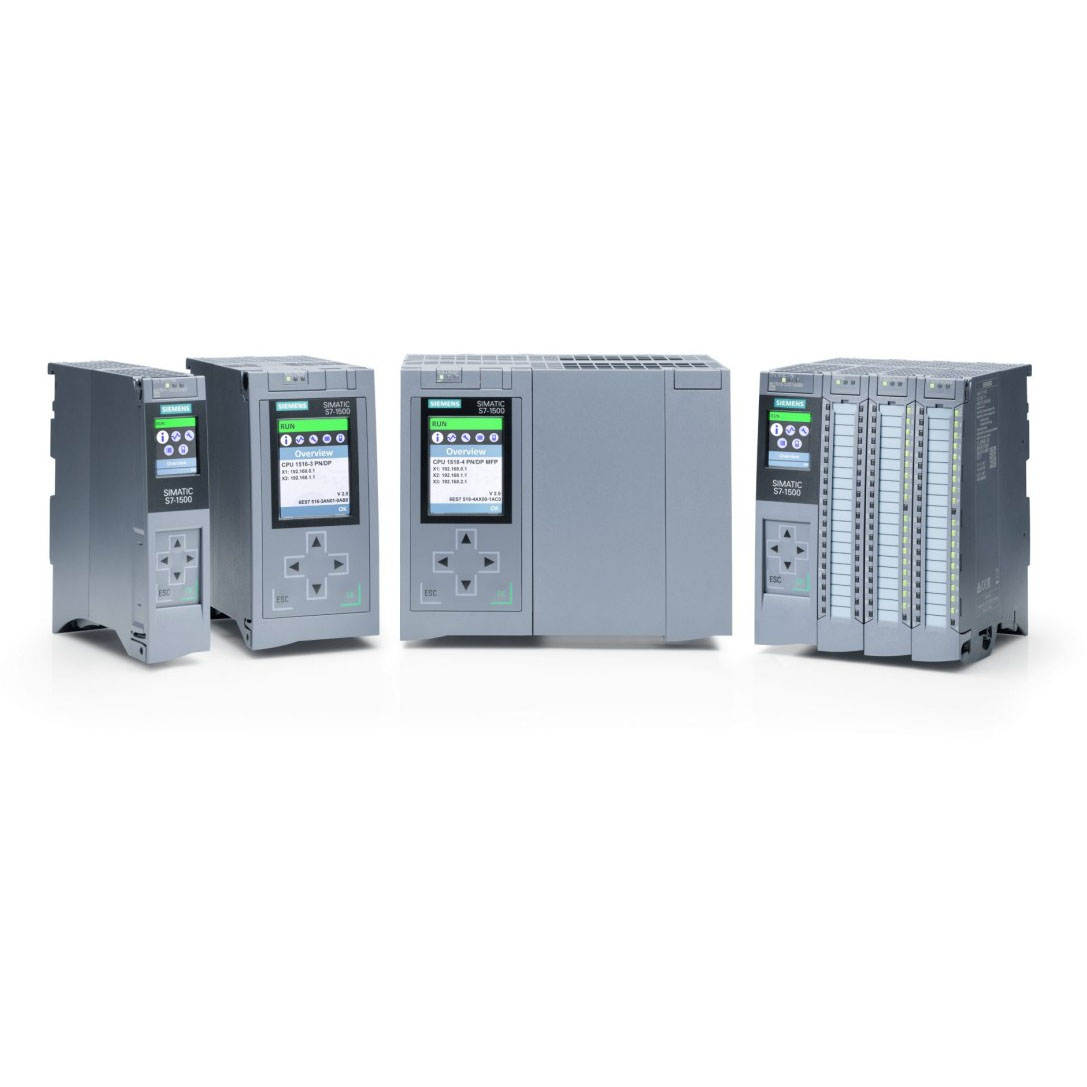 SIMATIC S7-1500 Advanced Controllers
S7-1500 Advanced Controllers set new standards for the highest level of productivity and can be used extremely flexibly in machine building and automation of entire production plants. They are suitable as compact or distributed controllers in series machine building as well as central controllers in the control cabinet for medium and high-end machines, and they meet the high requirements regarding performance, communication, flexibility and technological function.

The functionality of the SIMATIC S7-1200 controllers is seamlessly extended by the SIMATIC S7-1500 controllers that have been developed for more complex tasks. This means you benefit from uniform processes and the resultingmaximum efficiency in engineering, operation, and maintenance, and when migrating systems.

Maximum performance:
For maximum productivity and product quality in your production process, SIMATIC S7-1500 supports you with the fast backplane bus with PROFINET performance and the shortest response times as well as a command processing time in the CPU as little as 1 ns. The PROFINET connection with deterministic time response ensures reproducibility and precision in the µs range.

Integrated system diagnostics:
The SIMATIC S7-1500 CPU offers a diagnostic function that is already integrated in the system and can be used without the need for any programming. Thanks to this system diagnostics function integrated in the firmware, faults are detected independent of the program and error messages are uniformly displayed as plain text information in TIA Portal engineering, in the web server, on the CPU display as well as on the connected HMI. With the real-time trace function, you can record up to 1 000 sporadic events, precisely diagnose them and ultimately optimize your automation.

Functional design and very easy handling:
Very easy handling and the highest degree of user-friendliness in many interesting details are convincing properties of the SIMATIC S7-1500. This is demonstrated, for example, in the design of a SIMATIC S7-1500 station and in the easy wiring with channel-granular signaling. Without having to rely on engineering, the CPU display supports diagnostics and commissioning through functions such as station and module status, event display, tag status checking and IP address assignment.

Security Integrated:
A security concept with authorization levels, authentication, copy and block protection is installed in the SIMATIC S7-1500; it helps you protect your know-how and maintain communication integrity. This concept protects your investment and helps you achieve greater plant availability.

Safety Integrated:
SIMATIC S7-1500 controllers enable the highest degree of integration: one controller, one communication system and one engineering design for both standard and fail-safe automation. The multi-channel, fail-safe IO modules can be addressed directly during engineering. Any standard CPU is also available as fail-safe CPU.

Engineering in the TIA Portal:
TIA Portal is the innovative engineering framework for all automation tasks, with data transfer from the product design, automatic project generation for the SIMATIC S7-1500 and HMI Panels and data transparency during operation to optimize productivity.

Scalable CPU types:
Various CPU versions are available in several performance classes: standard and fail-safe CPUs, compact CPUs with integrated inputs and outputs as well as technology functions, technology CPUs with extended motion control functions and the ODK CPU with C/C++ block call from the control program.
---
Index
---
---
2.2 Analog I/O modules
(back to index)▲
SIMATIC S7-1500 SM 531 analog input modules
(non-conformal coated; -20...+60°C ambient)
SIMATIC S7-1500 SM 532 analog input modules
(non-conformal coated; 0...+60°C ambient)
SIMATIC S7-1500 SM 534 analog input/output modules
(non-conformal coated; 0...+60°C ambient)
SIPLUS S7-1500 SM 531 analog input modules
(conformal coated; -40 ... +70°C ambient)
SIPLUS SM 532 analog output modules
(conformal coated)
Width
25mm
35mm
35mm
35mm
35mm
25mm
35mm
35mm
35mm
25mm
35mm
35mm
35mm
35mm
conformal
coating
No
No
No
No
No
No
No
No
No
No
Yes
Yes
Yes
Yes
I/Os
4AI
4 x analog inputs
8AI
8 x analog inputs
8AI
8 x analog inputs
8AI
8 x analog inputs
8AI
8 x analog inputs
2AO
2 x analog outputs
4AO
4 x analog outputs
4AO
4 x analog outputs
8AO
8 x analog outputs
4AI + 2AO
2 x analog inputs
+ 2 x analog outputs
8AI
8 x analog inputs
8AI
4 x analog inputs
4AO
4 x analog outputs
8AO
8 x analog outputs
AI 4XU/I/RTD/TC ST
6ES7531-7QD00-0AB0

AI 8XU/I/RTD/TC ST
6ES7531-7KF00-0AB0

AI 8XU/I/RTD/TC ST
6ES7531-7NF10-0AB0

AI 8XU/I HF
6ES7531-7NF00-0AB0

AI 8 X U/R/RTD/TC HF
6ES7531-7PF00-0AB0

AQ 2XU/I ST
6ES7532-5NB00-0AB0

AQ 4XU/I ST
6ES7532-5HD00-0AB0

AQ 4XU/I HF
6ES7532-5ND00-0AB0

AQ 8XU/I HS
6ES7532-5HF00-0AB0

AI 4X U/I/RTD/TC/AQ 2X U/I ST
6ES7534-7QE00-0AB0

SIPLUS S7-1500 AI 8XU/I HS
6AG1531-7NF10-7AB0

SIPLUS S7-1500 AI 8XU/I/RTD/TC S
6AG1531-7KF00-7AB0

SIPLUS S7-1500 AQ 4XU/I ST
6AG1532-5HD00-7AB0
(-25...+70°C ambient)

SIPLUS S7-1500 AQ 8XU/I HS
6AG1532-5HF00-7AB0
(-40...+70°C ambient)

I/O specifications
Voltages:
1-5Vdc
-1...+1Vdc
-2.5...+2.5Vdc
-5...+5Vdc
-10...+10Vdc
-50...+50mV
-80...+80mV
-250...+250mV
-500...+500mV

Currents:
0-20mA
4-20mA
-20...+20mA

Temperature:

Thermocouples
RTD
PTC
Voltages:
1-5Vdc
-1...+1Vdc
-10...+10Vdc
-2.5...+2.5Vdc
-250...+250mV
-5...+5Vdc /
-50...+50mV
-500...+500mV
-80...+80mV

Currents:
0-20mA
4-20mA
-20...+20mA

Temperature
Thermocouple
RTD
PTC
Voltages:
1-5Vdc
-10...+10Vdc
-5...+5Vdc

Currents:
0-20mA
4-20mA
-20...+20mA
Voltages:
-1...+1Vdc
-25...+25mV
-250...+250mV
-50...+50mV
-500...+500mV
-80...+80mV

Temperature
Thermocouple
RTD
PTC
Voltages:
-1...+1Vdc
-25...+25mV
-250...+250mV
-50...+50mV
-500...+500mV
-80...+80mV

Temperature
Thermocouple
RTD
PTC
Voltages:
0-10Vdc
1-5Vdc
-10...+10Vdc

Currents:
0-20mA
-20...+20mA
4-20mA
Voltages:
0-10Vdc
1-5Vdc
-10…+10Vdc

Currents:
0-20mA
-20…+20mA
4-20mA
Voltages:
0-10Vdc
1-5Vdc
-10…+10Vdc

Currents:
0-20mA
-20…+20mA
4-20mA
Voltages:
0-10Vdc
1-5Vdc
-10…+10Vdc

Currents:
0-20mA
-20…+20mA
4-20mA
Voltages:
0-10Vdc
1-5Vdc
-1...+5Vdc
-1...+1Vdc
-2.5...+2.5Vdc
-5...+5Vdc
-10...+10Vdc
-50...+50mV
-80...+80mV
-250...+250mV
-500...+500mV

Currents:
0-20mA
4-20mA
-20...+20mA

Temperature
thermocouple
RTD
PTC
Voltages:
1-5Vdc
-10...+10Vdc
-5...+5Vdc

Currents:
0-20mA
4-20mA
-20...+20mA
Voltages:
1-5Vdc
-1...+1Vdc
-2.5...+2.5Vdc
-5...+5Vdc
-10...+10Vdc
-50...+50mV
-80...+80mV
-250...+250mV
-500...+500mV

Currents:
0-20mA
4-20mA
-20...+20mA

Temperature:
Thermocouple
RTD
PTC
Voltages:
0-10Vdc
1-5Vdc
-10...+10Vdc

Currents:
0-20mA
-20...+20mA
4-20mA
Voltages:
0-10Vdc
1-5Vdc
-10...+10Vdc

Currents:
0-20mA
-20...+20mA
4-20mA
2.3. Technology I/O modules
(back to index)▲
Positioning technology
Weighing technology
Timing
Type
TM Count 2x24V counter module (non-conformal coated; 0-60°C ambient)
SIPLUS TM Count 2x24V counter module (conformal coated; -40…+70°C ambient)
TM PosInput 2 counting and position detection module
Interface module for PTO (Pulse Train Output) TM PTO 4
Single-channel Weighing module
Double-channel Weighing module
Time-based IO module TM Timer DIDQ 16x24V
Width
25mm
25mm
35mm
35mm
35mm
35mm
35mm
Conformal
coating
No
No
No
No
No
No
No
Type
6DI + 4DO
6 x digital inputs (11-30Vdc; 0.04Hz-800kHz HSC high-speed counter)
+ 4 x digital outputs (23.2Vdc 500mA)
6DI + 4DO
6 x digital inputs (11-30Vdc; 0.04Hz-800kHz HSC high-speed counter)
+ 4 x digital outputs (23.2Vdc 500mA)
4DI + 4DO
4 x digital inputs (11-30Vdc / TTL 5Vdc; 0.04Hz-400kHz HSC high-speed counter)
+ 4 x digital outputs (23.2Vdc 500mA)
12DI + 12DO
12 x digital inputs (11-30Vdc)
+ 12 x digital outputs (23.2Vdc 100mA / Source/Sink; 200kHz PTO pulse train outputs)
3DI + 4DO + 1AI + 1AO
3 x digital inputs (24Vdc)
+ 4 x digital outputs (24Vdc)
+ 1 x analog input (Load cell / Full-bridge strain gauges / 1-4mV/V)
+ 1 x analog output (0-20mA / 4-20mA)
4DI + 4DO
4 x digital inputs (11-30Vdc; TTL 5Vdc 0.04Hz-400kHz HSC high-speed counter)
+ 4 x digital outputs (23.2Vdc 500mA)
TM COUNT 2X24V
6ES7550-1AA00-0AB0

SIPLUS S7-1500 TM COUNT 2X24V
6AG1550-1AA00-7AB0

TM POSINPUT 2
6ES7551-1AB00-0AB0

TM PTO4
6ES7553-1AA00-0AB0

TM SIWAREX WP522 ST
7MH4980-1AA01

TM SIWAREX WP522 ST
7MH4980-2AA01

TM TIMER DIDQ 16X24V
6ES7552-1AA00-0AB0

---
---
---
---
---
7. Documentation
(back to index)▲
Siemens catalog