SIMATIC S7-1200
CPU Units, I/O Units, Power Supply Units and Accessories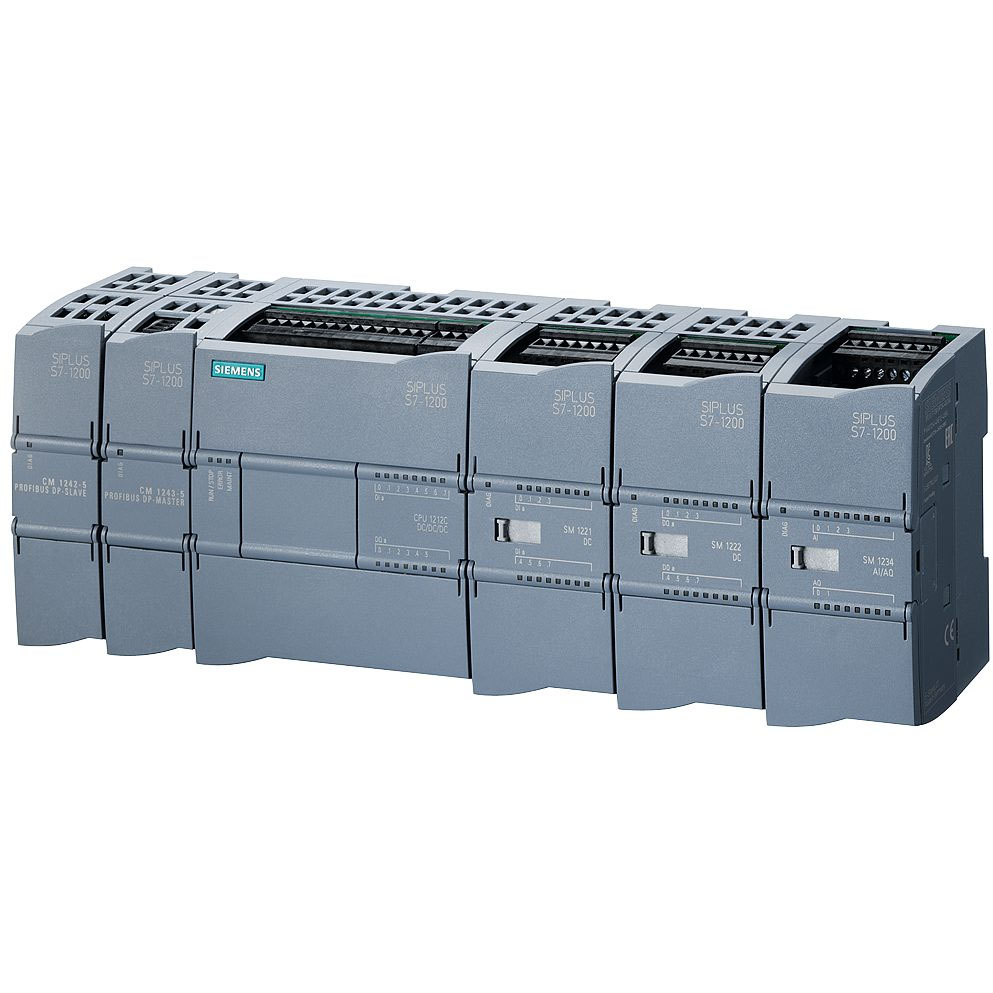 SIMATIC S7-1200 Basic Controllers offer persuasive, comprehensive technological features and integrated I/Os as well as a compact, space-saving design. They are the intelligent choice for small to medium-sized projects.

The functionality of the SIMATIC S7-1200 controllers is seamlessly extended by the SIMATIC S7-1500 controllers that have been developed for more complex tasks. This means you benefit from uniform processes and the resulting maximum efficiency in engineering, operation, and maintenance, and when migrating systems.

Scalable and flexible design:
The SIMATIC S7-1200 hardware is compact and modular, and it enables you to develop automation solutions that exactly meet your requirements. The innovative signal board concept lets you easily add digital and analog I/Os without changing the physical size of the controller.

Engineering in the TIA Portal:
SIMATIC S7-1200 is perfectly integrated into the Totally Integrated Automation Portal (TIA Portal) for maximum engineering efficiency. All SIMATIC Controllers and SIMATIC Panels are based on a shared database, a standardized operator concept, and centralized services. You benefit from a significantly reduced engineering overhead.

Networking:
The Industrial Ethernet/PROFINET interface integrated into SIMATIC S7-1200 offers seamless communication with distributed I/O, with SIMATIC HMI Panels for visualization and additional controllers for CPU-to-CPU communication. It can also be used with devices from third parties for extended integration possibilities as well as with the TIA Portal engineering framework for configuring and programming.

Integrated technology:
Integrated technology features for metering and measuring tasks, closed-loop control and motion control make the SIMATIC S7-1200 a versatile system that is perfectly suited for numerous automation tasks.

Security Integrated:
Protection from unauthorized code or process value changes means higher availability during operation. Know-how protection, copy protection and access protection prevent unauthorized third parties from opening and duplicating blocks and keep your algorithms and processes safe. The security features are integrated in the S7-1200 and the TIA Portal.

Diagnostics:
SIMATIC S7-1200 offers a diagnostic functionality that is already integrated in the system, without the need for any further programming. A standardized display concept enables error messages to be identically visualized as plain text information in the TIA Portal, on the HMI and in the web server.

Safety Integrated:
Safety-related applications are possible up to SIL 3 according to IEC 62061 and PL e according to ISO 13849 with fail-safe S7-1200 CPUs. The integrated PROFIsafe functionality enables connection of additional fail-safe devices, such as frequency converters. The S7-1200 fail-safe CPUs can be used for standard and fail-safe applications in machine and plant automation.
---
Index
---
1. Logic Controllers - CPU Units
(back to index)▲
SIMATIC S7-1200 CPUs series, for standard environments (-20...+60°C ambient, non-conformal coated)
SIPLUS S7-1200 CPUs series, for harsh / aggressive environments (All models are conformal-coated, rated for -20...+60°C ambient (-4XB0 models) / -40...+60°C ambient (-5XB0 models) / -40...+70°C ambient (-2XB0 models))
SIMATIC S7-1200 Fail-safe CPUs series compliant with IEC61508 SIL3 and ISO13849-1 PL e (-20...+60°C ambient, non-conformal coated)
SIPLUS S7-1200 Fail-safe CPUs series compliant with
IEC61508 SIL3 and ISO13849-1 PL e (-25...+55°C conformal-coated)
Integrated I/O
6DI/4DO/2AI
6 x digital inputs (can be used as high-speed 100kHz HSC counters)
+ 4 x digital outputs
+ 2 x analog inputs (0-10Vdc)
8DI/6DO/2AI
8 x digital inputs (can be used as high-speed 100kHz HSC counters)
+ 6 x digital outputs
+ 2 x analog inputs (0-10Vdc)
14DI/10DO/2AI
14 x digital inputs (can be used as high-speed 100kHz HSC counters)
+ 10 digital outputs
+ 2 analog inputs (0-10Vdc)
14DI/10DO/2AI/2AO
14 x digital inputs (can be used as high-speed 100kHz HSC counters)
+ 10 digital outputs
+ 2 analog inputs (0-10Vdc)
+ 2 x analog outputs (0-20mA)
14DI/10DO/2AI/2AQ
14 x digital inputs (can be used as high-speed 100kHz HSC counters)
+ 10 digital outputs
+ 2 x analog inputs (0-10Vdc)
+ 2 analog outputs (0-20mA)
6DI/4DO/2AI
6 x digital inputs (can be used as high-speed 100kHz HSC counters)
+ 4 x digital outputs
+ 2 x analog inputs (0-10Vdc)
8DI/6DO/2AI
8 x digital inputs (can be used as high-speed 100kHz HSC counters)
+ 6 x digital outputs
+ 2 x analog inputs (0-10Vdc)
14DI/10DO/2AI
14 x digital inputs (can be used as high-speed 100kHz HSC counters)
+ 10 digital outputs
+ 2 analog inputs (0-10Vdc)
14DI/10DO/2AI/2AO
14 x digital inputs (can be used as high-speed 100kHz HSC counters)
+ 10 digital outputs
+ 2 analog inputs (0-10Vdc)
+ 2 x analog outputs (0-20mA)
8DI/6DO/2AI
8 x digital inputs (can be used as high-speed 100kHz HSC counters)
+ 6 x digital outputs
+ 2 x analog inputs (0-10Vdc)
14DI/10DO/2AI
14 x digital inputs (can be used as high-speed 100kHz HSC counters)
+ 10 x digital outputs
+ 2 x analog inputs (0-10Vdc)
14DI/10DO/2AI/2AO
14 x digital inputs (can be used as high-speed 100kHz HSC counters)
+ 10 x digital outputs
+ 2 x analog inputs (0-10Vdc)
+ 2 x analog outputs (0-20mA)
14DI/10DO/2AI
14 x digital inputs (can be used as high-speed 100kHz HSC counters)
+ 10 x digital outputs
+ 2 x analog inputs (0-10Vdc)
Storage & communication
1MB (incl. 50kB for programs, PROFINET / 1 x Ethernet TCP/IP interface),
90mm width on DIN rail
2MB (incl. 75kB for programs, PROFINET / 1 x Ethernet TCP/IP interface),
90mm width on DIN rail
2MB (incl. 75kB for programs, PROFINET / 1 x Ethernet TCP/IP interface),
110mm width on DIN rail
4MB (incl. 125kB for programs, PROFINET / 1 x Ethernet TCP/IP interface),
130mm width on DIN rail
4MB (incl. 150kB for programs, PROFINET / 1 x Ethernet TCP/IP interface),
130mm width on DIN rail
1MB (incl. 50kB for programs, PROFINET / 1 x Ethernet TCP/IP interface), 90mm width on DIN rail
2MB (incl. 75kB for programs, PROFINET / 1 x Ethernet TCP/IP interface),
90mm width on DIN rail
2MB (incl. 75kB for programs, PROFINET / 1 x Ethernet TCP/IP interface),
110mm width on DIN rail
4MB (incl. 125kB for programs, PROFINET / 1 x Ethernet TCP/IP interface),
130mm width on DIN rail
2MB (incl. 100kB for programs, PROFINET / 1 x Ethernet TCP/IP interface),
90mm width on DIN rail
4MB (incl. 125kB for programs, PROFINET / 1 x Ethernet TCP/IP interface),
110mm width on DIN rail
4MB (incl. 150kB for programs, PROFINET / 1 x Ethernet TCP/IP interface),
130mm width on DIN rail
4MB (incl. 150kB for programs, PROFINET / 1 x Ethernet TCP/IP interface),
130mm width on DIN rail
Relay
outputs
CPU 1211C AC/DC/RLY
6ES7211-1BE40-0XB0
(85-264Vac 2A / resistive load)

CPU 1211C DC/DC/RLY
6ES7211-1HE40-0XB0
(24Vdc 2A / resistive load)

CPU 1212C AC/DC/RLY
6ES7212-1BE40-0XB0
(85-264Vac 2A / resistive load)

CPU 1212C DC/DC/RLY
6ES7212-1HE40-0XB0
(24Vdc 2A / resistive load)

CPU 1214C AC/DC/RLY
6ES7214-1BG40-0XB0
(85-264Vac 2A / resistive load)

CPU 1214C DC/DC/RLY
6ES7214-1HG40-0XB0
(24Vdc 2A / resistive load)

CPU 1215C AC/DC/RLY
6ES7215-1BG40-0XB0
(85-264Va 2A / resistive load)

CPU 1215C DC/DC/RLY
6ES7214-1HG40-0XB0
(24Vdc 2A / resistive load)

-
SIPLUS CPU 1211C AC/DC/RLY
6AG1211-1BE31-4XB0
(85-264Vac 2A / resistive load; -20...+60°C)

SIPLUS CPU 1211C AC/DC/RLY
6AG1211-1BE31-2XB0
(85-264Vac 2A / resistive load; -40...+70°C)

SIPLUS CPU 1211C DC/DC/RLY
6AG1211-1HE31-4XB0
(24Vdc 2A / resistive load; -20...+60°C)

SIPLUS CPU 1211C DC/DC/RLY
6AG1211-1HE31-2XB0
(24Vdc 2A / resistive load; -40...+70°C)

SIPLUS CPU 1212C AC/DC/RLY
6AG1212-1BE40-4XB0
(85-264Vac 2A / resistive load; -20...+60°C)

SIPLUS CPU 1212C AC/DC/RLY
6AG1212-1BE40-4XB0
(85-264Vac 2A / resistive load; -20...+60°C)

SIPLUS CPU 1212C DC/DC/RLY
6AG1212-1HE40-4XB0
(24Vdc 2A / resistive load; -20...+60°C)

SIPLUS CPU 1212C DC/DC/RLY
6AG1212-1HE40-2XB0
(24Vdc 2A / resistive load; -40...+70°C)

SIPLUS CPU 1214C AC/DC/RLY
6AG1214-1BG40-4XB0
(85-264Vac 2A / resistive load; -20...+60°C)

SIPLUS CPU 1214C AC/DC/RLY
6AG1214-1BG40-5XB0
(85-264Vac 2A / resistive load; -40...+60°C)

SIPLUS CPU 1214C AC/DC/RLY
6AG1214-1BG40-2XB0
(85-264Vac 2A / resistive load; -40...+70°C)

SIPLUS CPU 1214C DC/DC/RLY
6AG1214-1HG40-4XB0
(24Vdc 2A / resistive load; -20...+60°C)

SIPLUS CPU 1214C DC/DC/RLY
6AG1214-1HG40-5XB0
(24Vdc 2A / resistive load; -40...+60°C)

SIPLUS CPU 1214C DC/DC/RLY
6AG1214-1HG40-2XB0
(24Vdc 2A / resistive load; -40...+70°C)

SIPLUS CPU 1215C AC/DC/RLY
6AG1215-1BG40-4XB0
(85-264Vac 2A / resistive load; -20...+60°C)

SIPLUS CPU 1215C AC/DC/RLY
6AG1215-1BG40-5XB0
(85-264Vac 2A / resistive load; -40...+60°C)

SIPLUS CPU 1215C AC/DC/RLY
6AG1215-1BG40-2XB0
(85-264Vac 2A / resistive load; -40...+70°C)

SIPLUS CPU 1215C DC/DC/RLY
6AG1215-1HG40-4XB0
(24Vdc 2A / resistive load; -20...+60°C)

SIPLUS CPU 1215C DC/DC/RLY
6AG1215-1HG40-5XB0
(24Vdc 2A / resistive load; -40...+60°C)

SIPLUS CPU 1215C DC/DC/RLY
6AG1215-1HG40-2XB0
(24Vdc 2A / resistive load; -40...+70°C)

CPU 1212 FC DC/DC/RLY
6ES7212-1HF40-0XB0
(24Vdc 2A / resistive load)

CPU 1214 FC DC/DC/RLY
6ES7214-1HF40-0XB0
(24Vdc 2A / resistive load)

CPU 1215 FC DC/DC/RLY
6ES7215-1AF40-0XB0
(24Vdc 2A / resistive load)

SIPLUS CPU 1214 FC DC/DC/RLY
6AG1214-1HF40-5XB0
(24Vdc 2A / resistive load)

Transistor
outputs
(can be used
as 100kHz
PTO pulse
train outputs)
-
CPU 1211C DC/DC/DC
6ES7211-1AE40-0XB0
(24Vdc)

-
CPU 1212C DC/DC/DC
6ES7212-1AE40-0XB0
(24Vdc)

-
CPU 1214C DC/DC/DC
6ES7214-1AG40-0XB0
(24Vdc)

-
CPU 1215C DC/DC/DC
6ES7215-1AG40-0XB0
(24Vdc)

CPU 1217C DC/DC/DC
6ES7217-1AG40-0XB0
(24Vdc)

-
-
SIPLUS CPU 1211C DC/DC/DC
6AG1211-1AE31-4XB0
(24Vdc; -20...+60°C)

SIPLUS CPU 1211C DC/DC/DC
6AG1211-1AE31-2XB0
(24Vdc; -40...+70°C)

-
-
SIPLUS CPU 1212C DC/DC/DC
6AG1212-1AE40-4XB0
(24Vdc; -20...+60°C)

SIPLUS CPU 1212C DC/DC/DC
6AG1212-1AE40-2XB0
(24Vdc; -40...+70°C)

-
-
-
SIPLUS CPU 1214C DC/DC/DC
6AG1214-1AG40-4XB0
(24Vdc; -20...+60°C)

SIPLUS CPU 1214C DC/DC/DC
6AG1214-1AG40-5XB0
(24Vdc; -40...+60°C)

SIPLUS CPU 1214C DC/DC/DC
6AG1214-1AG40-2XB0
(24Vdc; -40...+70°C)

-
-
-
SIPLUS CPU 1215C DC/DC/DC
6AG1215-1AG40-4XB0
(24Vdc; -20...+60°C)

SIPLUS CPU 1215C DC/DC/DC
6AG1215-1AG40-5XB0
(24Vdc; -40...+60°C)

SIPLUS CPU 1215C DC/DC/DC
6AG1215-1AG40-2XB0
(24Vdc; -40...+70°C)

CPU 1212 FC DC/DC/DC
6ES7212-1AF40-0XB0
(24Vdc)

CPU 1214 FC DC/DC/DC
6ES7214-1AF40-0XB0
(24Vdc)

CPU 1215 FC DC/DC/DC
6ES7215-1AF40-0XB0
(24Vdc)

SIPLUS CPU 1214 FC DC/DC/DC
6AG1214-1AF40-5XB0
(24Vdc)

---
2. I/O Units - Expansion Modules
2.2. Analog I/O Modules
(back to index)▲
SIMATIC S7-1200 Signal Boards to be inserted in CPU unit
(non-conformal coated; -20...+60°C ambient)
SIPLUS S7-1200 Signal Boards to be inserted in CPU unit
(conformal coated)
SIMATIC S7-1200 Analog input modules
(non-conformal coated; -20...+60°C ambient)
SIMATIC S7-1200 Analog output modules
(non-conformal coated; -20...+60°C ambient)
SIMATIC S7-1200 Analog input / output modules
(non-conformal coated; -20...+60°C ambient)
SIPLUS S7-1200 Analog input modules
(All models are conformal coated)
Analog input boards
Analog output boards
Analog output boards
Supply via voltage
measurement channel L1
24Vdc
24Vdc
24Vdc
24Vdc
I/Os
1AI
1 x analog input
12-bit resolution
1AI
1 x analog input
16-bit resolution
1AI
1 x analog input
16-bit resolution
1AO
1 x analog output
12-bit resolution
1AO
1 x analog output
12-bit resolution
1AO
1 x analog output
12-bit resolution
3-phase voltages,
currents and energy
analog measurement
4AI
4 x analog input
13-bit resolution
4AI
4 x analog inputs
16-bit resolution
4AI
4 x analog inputs
16-bit resolution
4AI
4 x analog inputs
16-bit resolution
8AI
8 x analog inputs
13-bit resolution
8AI
8 x analog inputs
16-bit resolution
8AI
8 x analog inputs
16-bit resolution
2AO
2 x analog outputs
14-bit resolution
4AO
4 x analog outputs
14-bit resolution
4AI + 2AO
4 x analog inputs + 2 x analog outputs
13-bit resolution
4AI
4 x analog inputs
13-bit resolution
4AO
4 x analog outputs
14-bit resolution
4AI + 2AO
4 x analog inputs + 2 x analog outputs
13-bit resolution
4AI + 2AO
4 x analog inputs + 2 x analog outputs
13-bit resolution
conformal
coating
No
No
No
No
Yes
Yes
No
No
No
No
No
No
No
No
No
No
No
Yes
Yes
Yes
Yes
SB 1231
6ES7231-4HA30-0XB0

SB 1231 TC
6ES7231-5QA30-0XB0

SB 1231 RTD
6ES7231-5PA30-0XB0

SB 1232
6ES7232-4HA30-0XB0

SIPLUS SB 1232
6AG1232-4HA30-5XB0
(-25...+55°C ambient)

SIPLUS SB 1232
6AG1232-4HA30-4XB0
(0-55°C ambient)

SM 1238
6ES7238-5XA32-0XB0
(Energy Meter)

SM 1231
6ES7231-5ND32-0XB0

SM 1231
6ES7231-4HF32-0XB0

SM 1231 TC
6ES7231-5QD32-0XB0

SM 1231 RTD
6ES7231-5PD32-0XB0

SM 1231
6ES7231-4HD32-0XB0

SM 1231 TC
6ES7231-5QF32-0XB0

SM 1231 RTD
6ES7231-5PF32-0XB0

SM 1232
6ES7232-4HB32-0XB0

SM 1232
6ES7232-4HD32-0XB0

SM 1234
6ES7234-4HE32-0XB0

SIPLUS SM 1231
6AG1231-4HD32-4XB0
(0-55°C ambient)

SIPLUS SM 1232
6AG1232-4HB32-4XB0
(-20...+60°C ambient)

SIPLUS SM 1234
6AG1234-4HE32-2XB0
(-25...+70°C ambient)

SIPLUS SM 1234
6AG1234-4HE32-4XB0
(0-55°C ambient)

I/O specifications
12-bit resolution

Voltages:
-10...+10Vdc

Currents:
0-20mA
16-bit resolution

Temperature:
-80...+80mV
Thermocouple
16-bit resolution

Temperature:
RTD
12-bit resolution

Voltages:
-10...+10Vdc

Currents:
0-20mA
12-bit resolution

Voltages:
-10...+10Vdc

Currents:
0-20mA
12-bit resolution

Voltages:
-10...+10Vdc

Currents:
0-20mA
16-bit resolution

Voltages:
3 x 115-508Vac
phase-phase (45-65Hz)

Currents:
3 x 5A phase
currents (45-65Hz)
13-bit resolution

Voltages:
-2.5...+2.5Vdc
-5...+5Vdc
-10...+10Vdc

Currents:
0-20mA
16-bit resolution

Voltages:
-2.5...+2.5Vdc
-5...+5Vdc
-10...+10Vdc

Currents:
0-20mA
16-bit resolution

Temperatures:
-80...+80mV
Thermocouple
16-bit resolution

Temperatures:
RTD
13-bit resolution

Voltages:
-2.5...+2.5Vdc
-5...+5Vdc
-10...+10Vdc

Currents:
0-20mA
16-bit resolution

Temperatures:
-80...+80mV
Thermocouple
16-bit resolution

Temperatures:
RTD
14-bit resolution

Voltages:
-10...+10Vdc

Currents:
0-20mA
14-bit resolution

Voltages:
-10...+10Vdc

Currents:
0-20mA
13-bit resolution

Voltages:
-2.5...+2.5Vdc
-5...+5Vdc
-10...+10Vdc

Currents:
0-20mA
13-bit resolution

Voltages:
-2.5...+2.5Vdc
-5...+5Vdc
-10...+10Vdc

Currents:
0-20mA
14-bit resolution

Voltages:
-10...+10Vdc

Currents:
0-20mA
13-bit resolution

Voltages:
-2.5...+2.5Vdc
-5...+5Vdc
-10...+10Vdc

Currents:
0-20mA
13-bit resolution

Voltages:
-2.5...+2.5Vdc
-5...+5Vdc
-10...+10Vdc

Currents:
0-20mA
2.3. Special I/O Modules and accessories
(back to index)▲
SIMATIC S7-1200 SM 1278 series IO-Link Master module
SIPLUS CMS1200 SM 1281 Condition Monitoring module
SIMATIC S7-1200 SIM 1274 series simulator modules
SIMATIC S7-1200 SIWAREX series versatile weighing module
Supply
voltage
24Vdc
24Vdc
24Vdc
-
conformal
coating
No
Yes
No
No
No
No
No
No
Type
4 x IO-Link Master (-10...+10Vdc / 0-20mA)
5AI
0.1-10kHz Measurement range
1 x speed input (24Vdc) + 4 x IEPE sensor inputs (46 875Hz)
8DI
8-channel input switches
16DI
16-channel input switches
16DI
16-channel input switches
4DI + 4DO + 1AI + 1AO
4 x digital inputs + 4 x digital outputs + 1 x analog input (load cell)
+ 1 x analog output (0-20mA / 4-20mA) / MODBUS RTU + MODBUS TCP/IP + RS-485
6ES7278-4BD32-0XB0

6AT8007-1AA10-0AA0

6ES7274-1XF30-0XA0

6ES7274-1XH30-0XA0

6ES7274-1XK30-0XA0

SIWAREX WP231
7MH4960-2AA01

SIWAREX WP241
7MH4960-4AA01

SIWAREX WP251
7MH4960-6AA01

---
---
---
---
---
7. Documentation
(back to index)▲
Siemens catalog